The COVID-19 pandemic has created a paradigm shift in the way the world functions. When businesses are failing and old ideas are no more valid, how are rural India's women entrepreneurs coping?
In Kanchipuram, Tamil Nadu, when there is a wedding in the family, Shakthi is the go-to person. Food, decor, you name it and Shakti gets it done. March is one of Shakti's busy months, but this March, the wedding planner's plans came to a standstill with the COVID-19 lockdown.
Far away in Madhya Pradesh's Dhar district, a dairy cooperative that buys cow's milk from rural women stopped their collections. With sweet shops and restaurants closing down, the cooperative had no choice. Can necessity create entrepreneurs out of rural women?
These women (and more stories down below), are but a tiny, but significant part of India's 13.5 million women-owned enterprises. These enterprises also give employment to a whopping 22 million people in India (TOI article)! Take Shakti, she employs nearly a 100 people for every big wedding event she undertakes.
Take a sneak peek into how rural India's women entrepreneurs nurtured by Hand in Hand India are coping with these changing times!
How has COVID affected women entrepreneurs in India?
We spoke to women entrepreneurs in different parts of India and asked them how the COVID-19 situation has affected their livelihoods. We found that they were not cowed down by the pandemic and the resulting loss in business. Instead, they have utilised the time to either help the community or make changes to their business plan.
We relate here, their stories and how they propose to make the best of the situation.
These women entrepreneurs have been with Hand in Hand India's journey in empowering women for more than a decade. As an NGO, we provide rural women in India a foothold in entrepreneurship through business development training, financial and digital literacy and access to credit. Over the 15 years of our work, we have helped create 23,72,000 women-owned-family-run enterprises across India. Our women entrepreneurs may be a small store owner or a neighbourhood tailor to a large scale food enterprise owner or even running a manufacturing set-up. Read more about how we have tied up with the Indian Institute of Technology to give these women a head-start into the business world.
Sathya | Kancheepuram
Large-scale Food Catering business owner
Sathya is the self-appointed Chief Marketing Officer of her business. Her husband could be called the Chief Operations Officer. Together they run a food catering business, servicing weddings, corporate orders and family events in and around Kancheepuram.
Sathya is a thinker, talker and a treasure trove of recipes. Her analogies on life and business are very interesting too. She compares a small business to a young sapling – on the outside, the sapling might appear puny with just a few leaves, but beneath the ground, the sapling is working hard to establish its wide network of roots, or a foundation.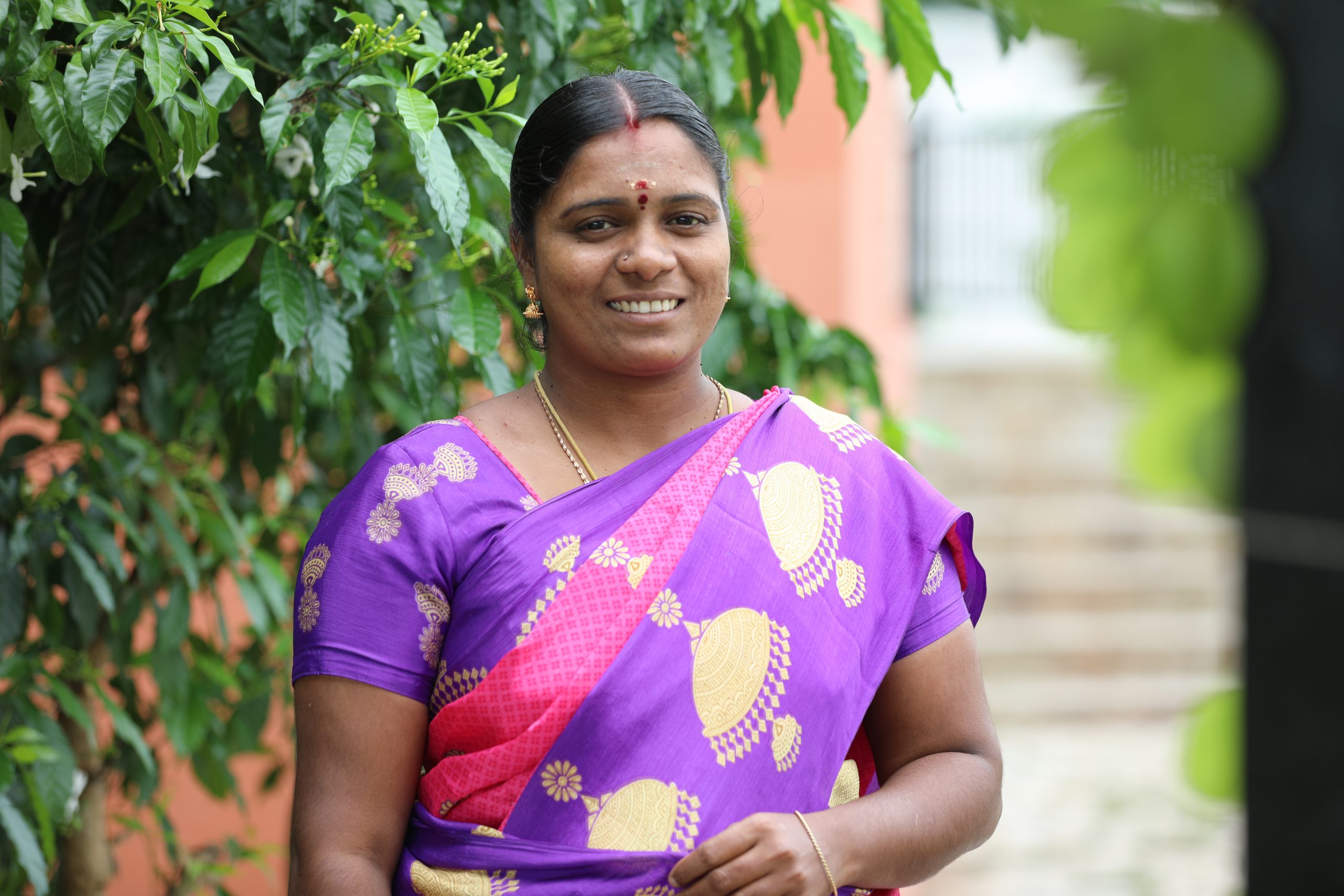 The story of her business is akin to that of the sapling. In March, as they were in the middle of a booming wedding business, the COVID pandemic hit her business hard. Sathya's business, however, had got its roots firmly into soil – the goodwill of customers and families around town are keeping it going. Sathya and her family are now busy making and packing snacks and sweets that have a long shelf life and selling to her customer base. This keeps the home fires burning for now.
In times like these, one must admire Sathya's far-sight. Her instinctive business skills have led her to the idea of a horizontal integration plan. She is utilising the lockdown time to test out a home-made range of condiment powders and pastes – herbal rasam powder (rasam is a concoction of whole spices), vethakuzhumbu mix (a spicy gravy to go with rice) , paruppu podis (lentil mixes) and more. The brand is called 'ShivaShakti' and she is slowly starting to distribute in the town as the lockdown eases. Her logic is sound; " We are very busy during the wedding season but otherwise we have a lot of free days. Why not utilise these times for packaged product manufacturing?"
Shakti has taken advantage of the many training modules offered by Hand in Hand India to women entrepreneurs. She particularly thanks us for the Audit training, "I know how to run a business, but when it comes to the books and auditing, I was clueless. These auditing classes cleared my doubts and I learnt a lot". While Shakti and her husband await for the world to re-open, she leaves us with a thought, "this pandemic has taught us to look beyond ourselves too".
Mamta, Madhya Pradesh
Group Dairy Initiative
Dhar district in Madhya Pradesh borders one of India's busiest cities – Indore. Mamta lives here with her husband, two children and her parents-in-law. Mamta belongs to Hand in Hand India's Self Help Group and joined 8 years ago. That was when they got introduced to a lot of new things – milch animal upkeep, tailoring, maintaining bank accounts and more on the path to empowerment.
The most important part of Mamta's daily routine is to check on her children, not just her two boys but her cows and buffaloes.The animals give her a good yield of milk everyday – 40 litres per day. A milk cooperative takes her yield and that of her neighbours for supply to sweet shops and restaurants.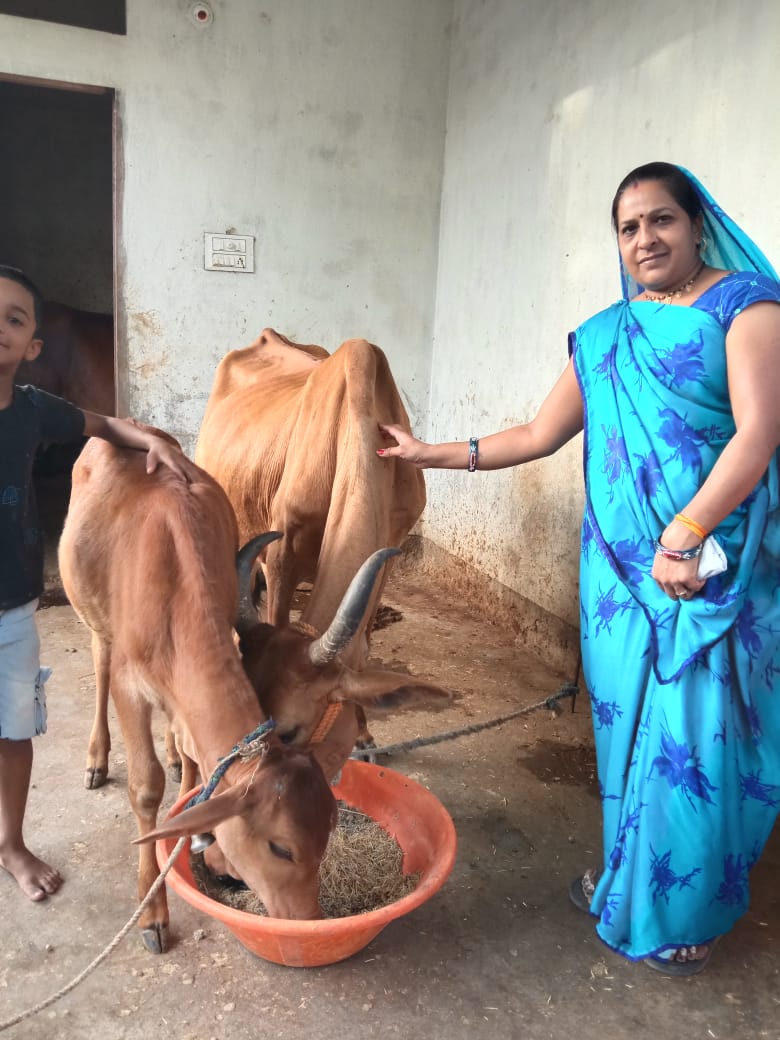 This March as the world moved into a lock-in, these shops closed down and left Mamta and her neighbours in a spot. Necessity drove Mamta and five of her Self Help Group friends to put on their thinking hats. Why should they depend on the cooperative to buy their milk? They had milk to spare, nearly 100 litres a day between the five of them. They also had a community around them that needed milk everyday. So they set out with the help of their menfolk in delivering milk, twice a day.
A month later in May, the 'Vraj Vala Doodh' team is delivering milk to 50 families in Dhar. Together they also make ghee and curd and sell that too. In times of pandemics like now, these families prefer to buy milk from a trusted source. The group is also earning more now – INR 45 per litre, five rupees more than the cooperative paid them. Mamta is proud of their group's name, "We are from the Gowli community, the cattle herders of Lord Krishna who was born in Vraj bhoomi". What makes her even more proud is the fact they are now an independent enterprise with the goodwill of their customers.
Immunity and ingenuity, two things India is getting a boost during the pandemic!
Selvi | Pondicherry
Beautician, Tailoring instructor and Trainer
A native of Pondicherry, Selvi is a very busy woman – she runs a beauty salon, tailoring unit and an Aari embroidery enterprise. To top it all, she is an accredited National Skill Development Centre trainer and works regularly with Hand in Hand India's SHG teams as a trainer. Her association with Hand in Hand India goes back many years ago when she got into one of our Self Help Groups and took a loan to buy herself a sewing machine. That was just the beginning.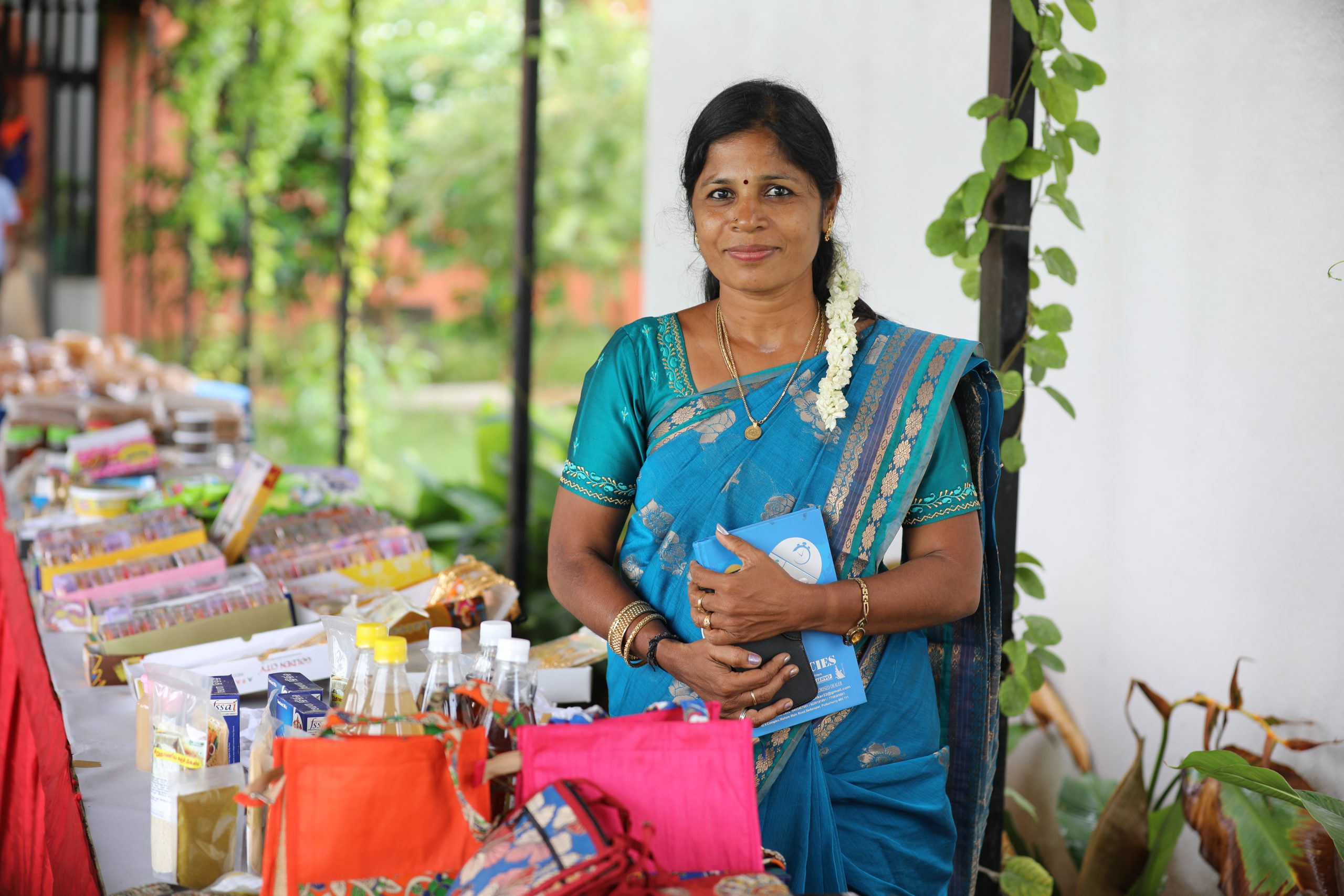 Selvi is fiercely independent and believes financial autonomy is the first step to women empowerment. She is proud of her achievements – setting up her beauty salon, educating her children and training hundreds of women to stand on their own feet. The COVID pandemic, however, has caught Selvi unawares, but not totally unprepared.
Upskilling comes naturally to Selvi. From tailoring, to embroidery and then to a beautician course and most recently, a Physiotherapy certificate course. Today, Selvi uses her tailoring skills to stitch masks for the community – around 13,000 so far. She uses the income to help her women friends who don't have a means of livelihood.
She now plans to move into an online beautician course and to put her physiotherapy skills to use. Selvi asserts that she has never let her lack of English language to come in the way of her growth. She has only completed her 10th Grade, but smartly uses Google translate to help her with business emails!
We found Selvi's drive to constantly innovate herself and the ability to market herself as an individual, inspiring. This is the same reason her more than 100 students look up to her too. Clearly, there ain't no mountain high enough for Selvi!
Hema | Kancheepuram
Owner of an Event Management business, Beauty Salon and an Organic Outlet
Hema reminds one of a buzzing bee, busy and very productive. This woman entrepreneur, armed with an MSME license is the very spirit of 'never say die'. She runs a beauty salon, an event management company with catering attached and also runs an organic products outlet.
Her foray into the business of beauty is not just a salon, but the A-to-Z of beauty itself. So, when the pandemic closed down her salon, Hema did not panic. Her staff are trained in massage and physiotherapy too, so those in pain were attended to at home. Hema having taken a cosmetology course, also helps people with skin problems. It helps that she has the distributorship for a range of natural beauty products as well. . When the COVID pandemic hit, Hema too stepped in to help the community with making sanitizers with neem and aloevera. She has been using a natural formula and now wants to take up Hand in Hand India's training to make alcohol based sanitizers.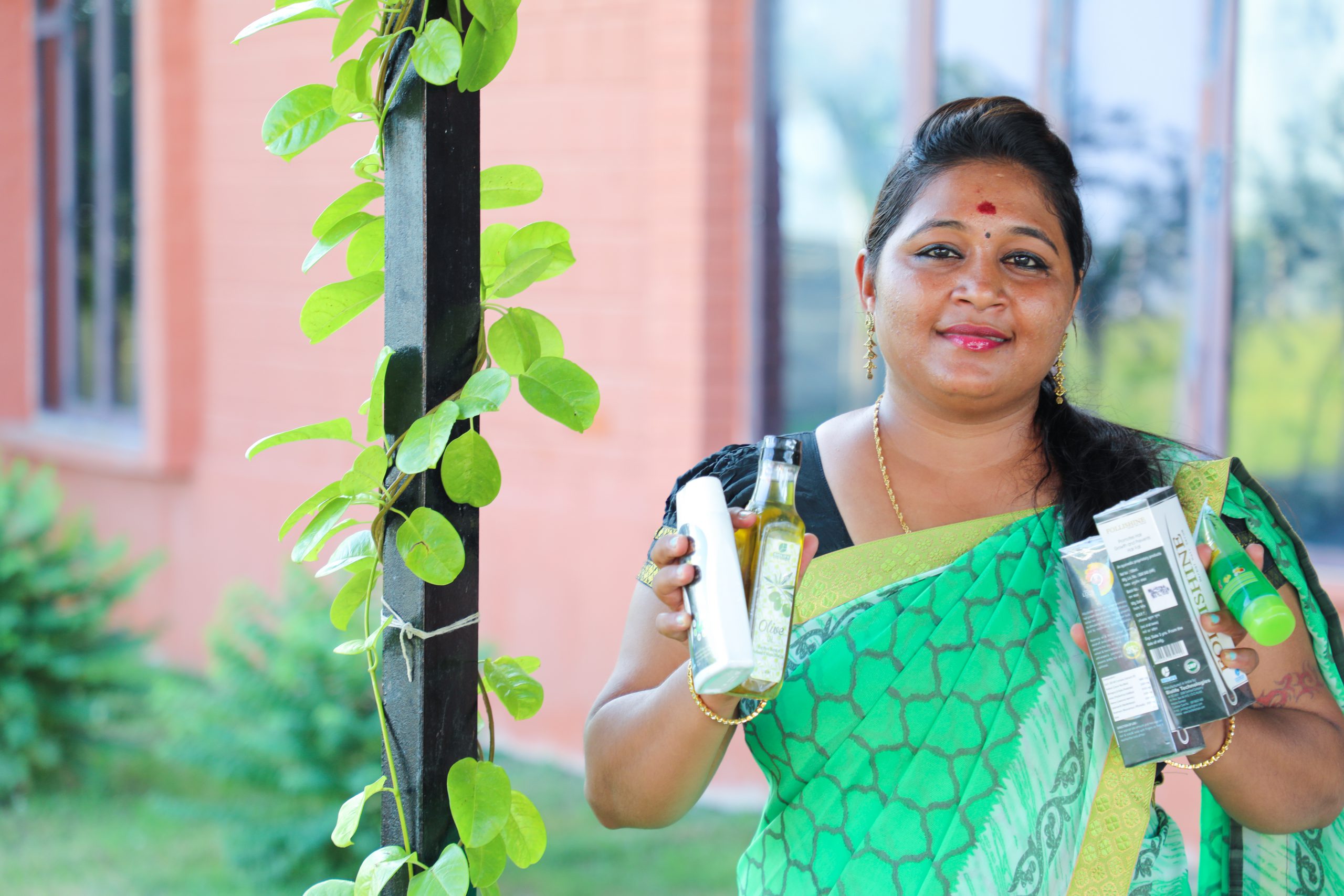 Hema's organic shop supplies healthy food alternatives and has been doing brisk business during the pandemic. She sells millet based food, kanji maavu (porridge mix), soup powders and more. She says the pandemic has made people health conscious, "When this pandemic wave subsides, I would like to extend my organic shop into a small food business that sells herbal juices and snacks". Her ideas don't stop there – currently Kanchipuram has no wholesaler of tailoring supplies and Hema plans to be the first to fill this gap.
When the going gets tough, is when Hema gets going!
Ramandeep Kaur, Punjab
Food processing enterprise owner
When Ramandeep Kaur spoke in an interview to All India Radio during the lockdown, there was no trace of nervousness in her voice. In Malkana village in Bhatinda, Punjab, women were listening in with pride and awe. She was speaking on the AIR as a woman entrepreneur from rural Punjab.
For this graduate in agriculture, a chance course she took up in food processing changed her destiny. The training exposed her to pickle making, baking and more. Ramandeep was all set to set up shop and help out her family with a steady income. As with any woman entrepreneur, her journey too had its set of challenges – getting a food processing license to begin with and later on, lack of funds to set up her shop.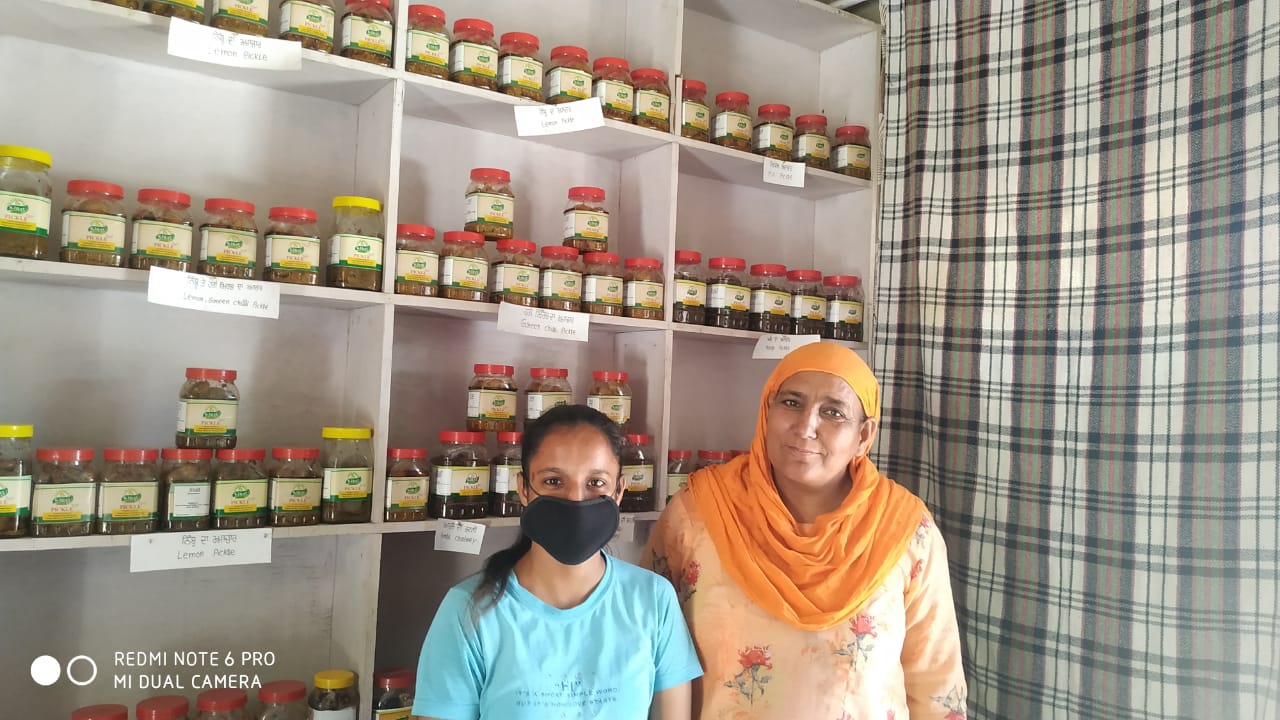 Ramandeep with her mother
The tables turned when she met the Hand in Hand India team who hand-held her in getting a license. Ramandeep also became part of a Self Help Group that helped her get trained in running an enterprise and take loans to kick start her business. Starting with INR 1000, today the young woman is the owner of Kirat enterprises earning more than INR 12,000 per month!
During the COVID lockdown, Ramandeep found it difficult to source raw materials at reasonable prices and also packaging materials. Business at the shop was slow, so she has started to home deliver products. She has utlized this time to create new health products for older people and children.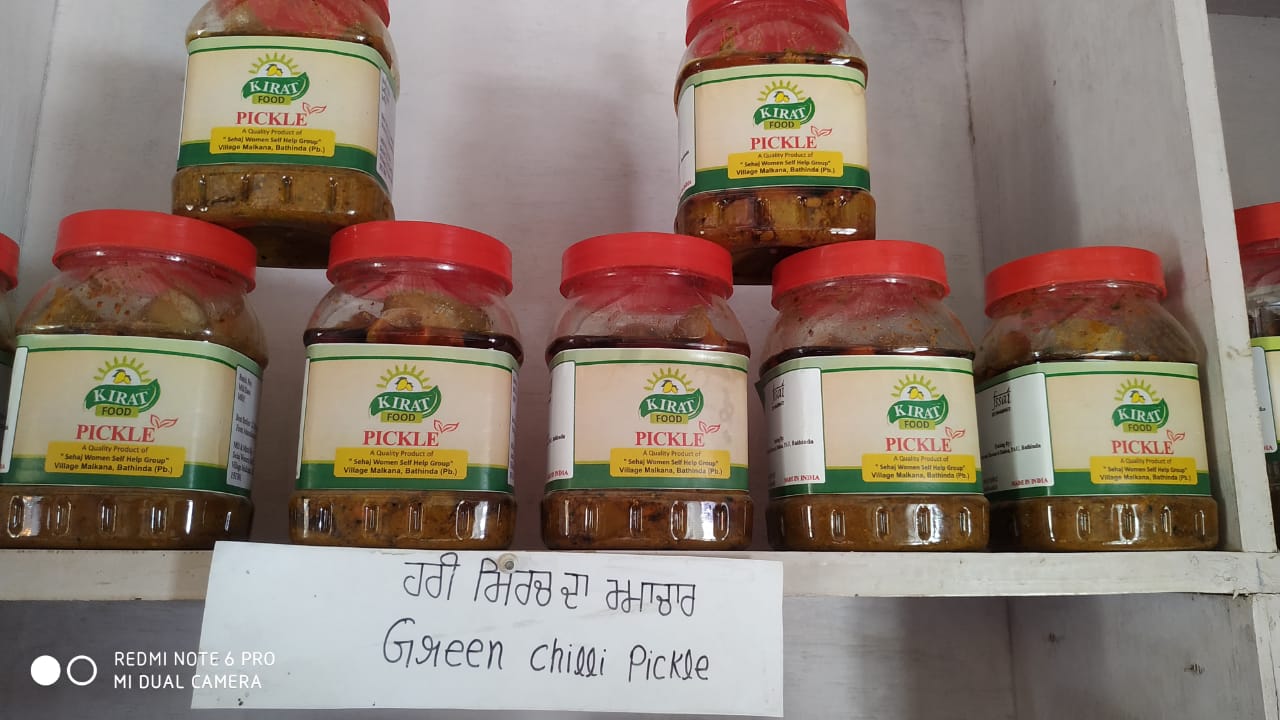 Her message to fellow-women-entrepreneurs on the radio interview was simple, "Empower yourselves through training and setting up your own enterprise". And simplicity is the key to success!
Abirami | Villivalam, Tamil Nadu
Organic Farmer, Rice and pulses distributor.
The first thing that comes out when we speak to Abirami is that she is a staunch believer of organic farming. This entrepreneur runs her organic farm, Shenbagam Farms along with her husband Veeraraghavan. Together they have been popularising traditional varieties of rice such as kichli samba, thooyamalli and poongar.
Yet another deviation they decided to take was going directly to the customer. Abirami was one of the first rural women entrepreneurs who took her business online with the revolutionary RISE App. This unique project of Hand in Hand India and Vodafone brought the market to the doorsteps of such women entrepreneurs and expanded their customer base with very little effort!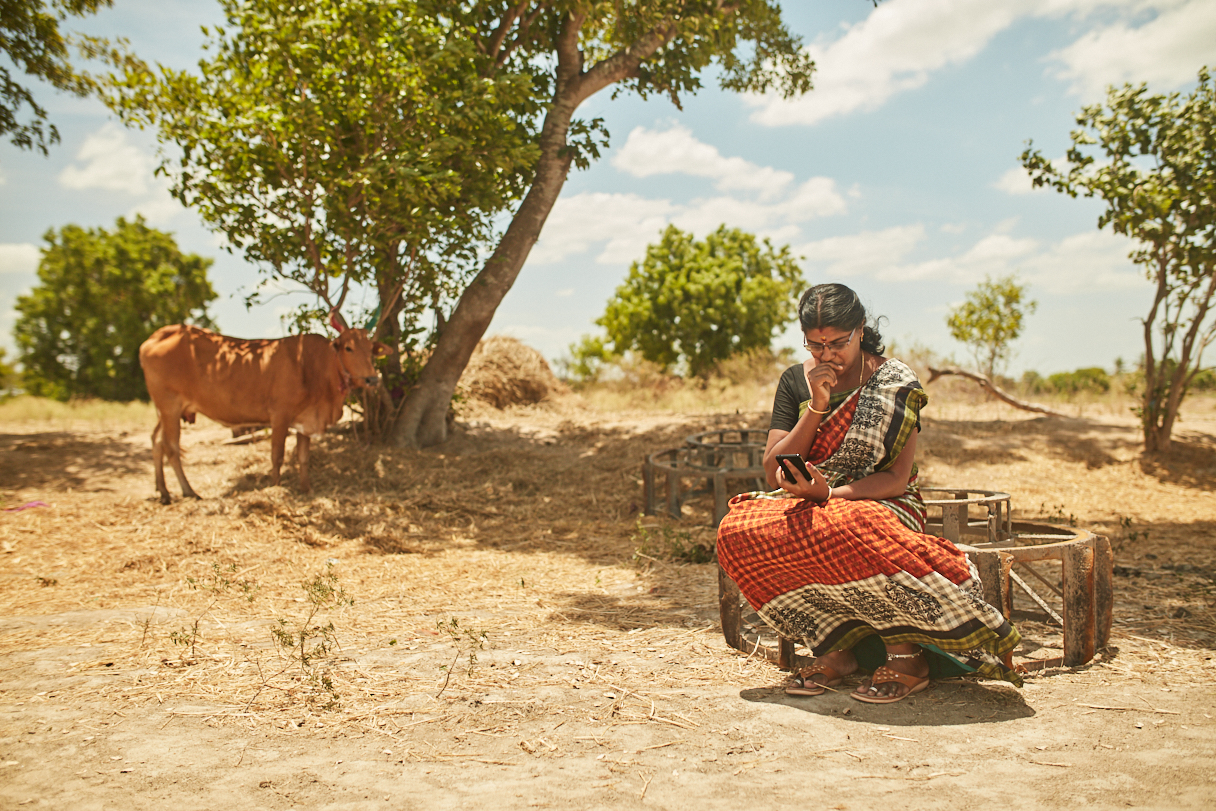 Abirami finds the Covid19 pandemic has brought on a difficulty in distribution, "Orders are coming in, a little lesser than usual. The bigger problem we face is sending the orders to customers. We are waiting for the lockdown to end".
This lockdown seems to have had its share of positives for Abirami too. The farmer couple are making plans of expansion into an oil pressery, as they also harvest sesame seeds. Their small start with dairy is also showing promise and Abirami hopes to be supplying milk products and eggs too. Based on customer feedback, Abirami also has plans to foray into ready-to-eat foods that use the base ingredients from their farm – peanut and sesame laddus (healthy energy balls) and more.
Abirami's biggest lockdown learning is 'keeping one's spirit up and always looking at the positive'. She adds a valuable afterthought – 'always keep technology as your best friend!'.
The increasing number of women entrepreneurs setting up businesses however small, is getting India back on to the micro-entrepreneurship map. Further studies say that these women entrepreneurs are capable of boosting India's economy by $700 billion!
Going local is the catch word, and who better to build a self-reliant nation than these sprightly women entrepreneurs. We at Hand in Hand India salute them!
Hand in Hand India's Self Help Group (SHG) model is based on women empowerment and job creation. We mobilise women into groups, draw on the collective social capital, facilitate access to economic capital, provide skills training, hone their entrepreneurial ability and act as a catalyst for a gender-equal and empowered society.Read more about our work here.