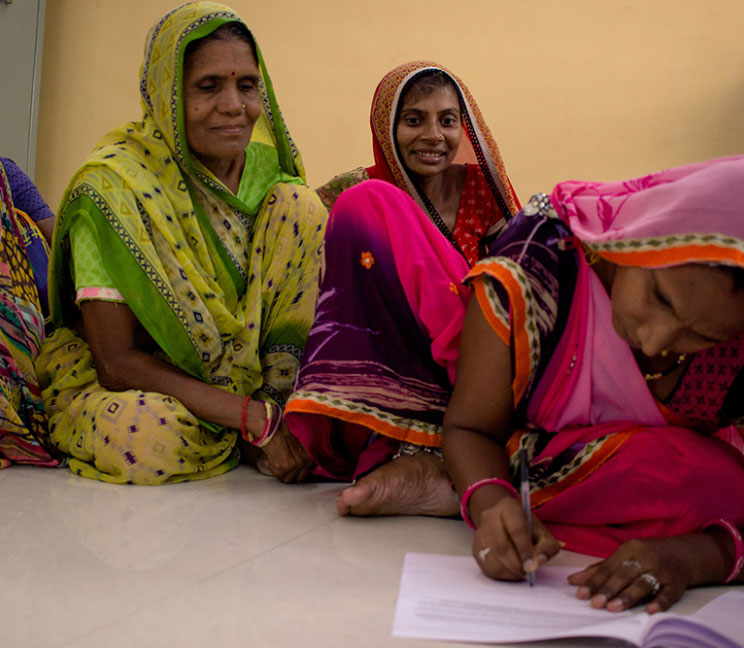 Leading the women's Self Help Group (SHG) movement, Hand in Hand India has developed unique jobs as part of a growth model focussing on women empowerment and job creation. We mobilise women into groups, draw on the collective social capital, facilitate access to economic capital, provide skills training, hone their entrepreneurial ability and act as a catalyst for a gender-equal and empowered society.
The 2.2 million women we have empowered stand testimony to the impact of our financial inclusion programme. We have seen them grow from strength to strength, with increased income, dignity and self-esteem.
Impact of Job Creation & Women Empowerment Programmes
339, 061
Self help groups (SHGs) formed
3,421,367
SHG members enrolled
3,801,273
Family-Based enterprises created
94,976
Micro enterprises formed
Bihar , Chhattisgarh
Gujarat , Karnataka
Kerala , Madhya Pradesh
Maharashtra , Odisha
Puducherry , Rajasthan
Tamil Nadu
Uttarakhand , Uttar Pradesh
West Bengal
Social Mobilisation
Social Mobilisation
As an NGO that works towards gender equality and women empowerment, one core message that we take to the community is that of the need to come out of poverty. We highlight the need for independence, the advantages of adding to the family income and the benefits of technology.
Training and Capacity Building
Training and Capacity Building
Our model of building social entrepreneurship programmes in India focuses on providing entrepreneurship development and skills training to women who seek advice. We train them on group dynamics, benefits of savings, interest computation and financial and functional literacy.
Access to Credit
Access to Credit
We avail loans to members of our SHGs through MFIs or banks to help their businesses take off. The increase in livelihood activities also ensures that women are able to repay their loans with no trouble.
Graduated Entrepreneurs Programme
Graduated Entrepreneurs Programme
Our Graduated Entrepreneurs Programme, in partnership with reputed academic institutions, banks and MFIs focuses on promoting women-run businesses. These social entrepreneurship programmes facilitate access to capital, bank credit and a mentoring programme, paving the way for gender equality.
Access to Insurance
Access to Insurance
We also facilitate livestock insurance and emergency health service insurance for SHG members and their spouses to mitigate risks of debt traps. Through our network, we also promote and bring awareness of government insurance schemes for life and health.
Facilitating Sustainablity
Facilitating Sustainablity
We help SHGs with institutional networking and market linkages to expand their businesses. Our Cluster Level Networks (CLN) also help SHGs to bring about positive change in their areas. This model was successfully tested in Tamil Nadu and is now being implemented across other states too.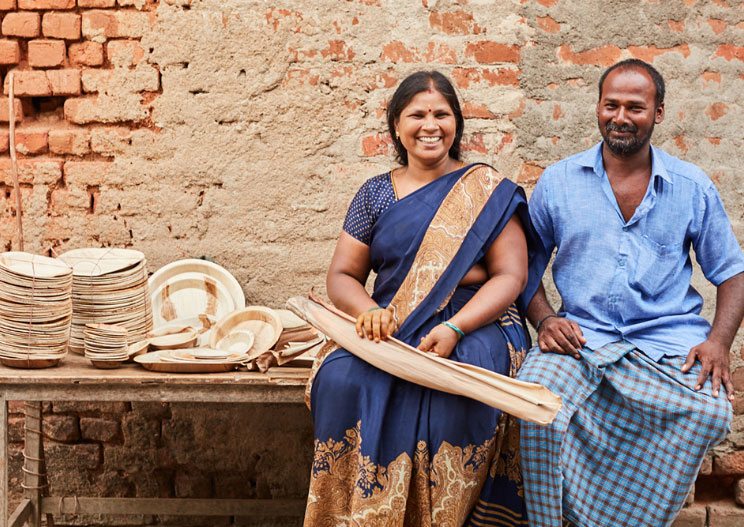 Stories Of Change
Gita
Business Development Training, Tamil Nadu
Gita and her husband Meghnad pack a long hectic day. In Keelkathirpur, rural Tamil Nadu where they live, the couple run their business of making areca nut palm cutlery. They are riding on the wave of eco-friendly cutlery that is much in demand.
Read More Stories
Help More Women Like Gita
Creating an entrepreneur is no easy feat. Entrepreneurs require training in business plan preparation, financial planning, marketing, sales and much more. You can create entrepreneurs of 10 women in trades such as beautician, tailoring, bee-keeping and more with just INR 15,000.