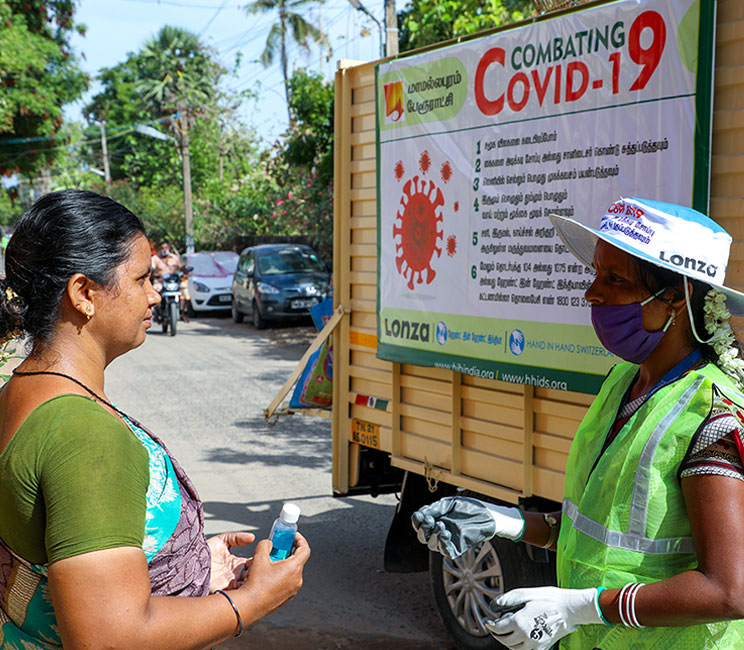 Our Contribution in the COVID Fight
When the pandemic struck India in 2020 and the nation went into a strict lockdown, the Hand in Hand India team stepped up to support vulnerable communities in alignment with its mission. We not only diversified our own projects to maximise impact but also went beyond to provide emergency relief support.
In the devastating second wave resulting in substantial human loss and significant humanitarian concerns with an urgent need for supporting the people in many fronts, we are seeking the support to join us in the fight against this deadly virus.
Impact of the COVID-19 relief from March-December 2020
60,280
Individuals provided with psychosocial support and counselling
43,644
Immune systems boosted
83,322
Sanitary products produced
17,699
Hygiene kits distributed
35,435
Medical equipment distributed
32,213
Food packets distributed
42,203
Families provided with food ration
8,076
SHG women trained in mask production
103
Power sprayers distributed
28,300
Sanitizer bottles produced and distributed, reaching out to a population of 513,200
RS.1080
Relief fund provided to 1500 Green Friends (sanitary workers) and the field team
Our COVID-19 Relief Activites
Augmenting the Health Care Infrastructure
Augmenting the Health Care Infrastructure
In the first wave, PPE kits, thousands of N95 masks and medical equipments distributed to 150 rural and urban primary health centres, Government general hospitals, medical college hospitals, district health departments and conducted medical camps including COVID screening camps. Seeking support for medical equipments, PPEs, beds, Oxygen cylinders and concentrators, masks, gloves etc. Seeking support for medical
Supporting Pandemic and Livelihood
Supporting Pandemic and Livelihood
The pandemic led to the loss of jobs of many daily workers who were from the marginalized communities. HiH India trained SHG members in stitching masks, produced sanitizer liquids, and supported the surging need during the pandemic. Seeking support for masks, sanitizers to support the pandemic and also as a livelihood support Seeking support for masks
Learning Never Stops
Learning Never Stops
HiH India through its remote Satellite Teaching Centres (STC) conducted classes for the children who are unable to attend the e-learning platforms. When the children could not access schools, we brought the schools closer to them. The initiative supported the 'COVID Dropouts' i.e. students who were unable to attend online classes as they have no access to schooling, internet, or electricity.
Supporting the Sanitation and Frontline Workers, and the Local Bodies
Supporting the Sanitation and Frontline Workers, and the Local Bodies
We reached out to support the Green Friends (sanitary) and under privileged people by providing ration kits, PPEs and health care, and the local government bodies with portable sanitizer power sprayers and sanitizer kits and hands free sanitizer dispensers. Seeking support for ration kits, PPEs, sanitizers
The Devastating Second Wave
India is grappling with a devastating second wave of the COVID-19 pandemic. Hospitals are backlogged and health professionals are overloaded. There is a high demand with an extremely low supply. People desperately on the lookout for oxygen cylinders or hospital beds to save the life of a loved one, burning pyres in the crematorium that now carry a houseful sign on their doors, and people waiting with oxygen masks outside hospitals in hope of finding at least one available bed. This is the scenario that is being portrayed on all international and national platforms.
Hence, we are appealing for support in combating this second wave that is ravaging India:
Food Ration Kits for Migrant Workers, Green Friends (sanitary workers) and Covid-affected poor families

Option 1 ₹ 1000/kit

Option 2 ₹ 1500/kit
Help equip hospitals and frontline workers with lifesaving medical supplies, equipment, oxygen and beds
Semi Fowler Bed with Mattress & Pillow with MS Bows

₹ 21,500/unit

₹ 1,850/unit

₹ 2,300/unit

₹ 1,800/unit

Patient Bed Side Trolley/Instrument Trolley SS

₹ 6,200/unit

₹ 3,400/unit

Empty Oxygen Cylinder (46.7 L)

₹ 20,000/unit

₹ 90,000/unit

₹ 7,000/1000 units

₹ 15,000/1000 units

₹ 3,000/100 units

Gloves for sanitary workers

₹ 20,000/500 units

Option 1 ₹ 500/kit

Option 2 ₹ 1,000/kit

Option 1 ₹ 500/kit

Option 2 ₹ 1,000/kit

Oxygen generation plant 300 LPM

₹ 75,00,000/plant
Help the fight against COVID-19
Support Hand in Hand India in the fight against COVID-19 by contributing to health care infrastructure by helping us acquire oxygen cylinders and concentrators, medical equipment, PPE kits, ration kits for the sanitation workers and underprivileged people and education kits for the poor children.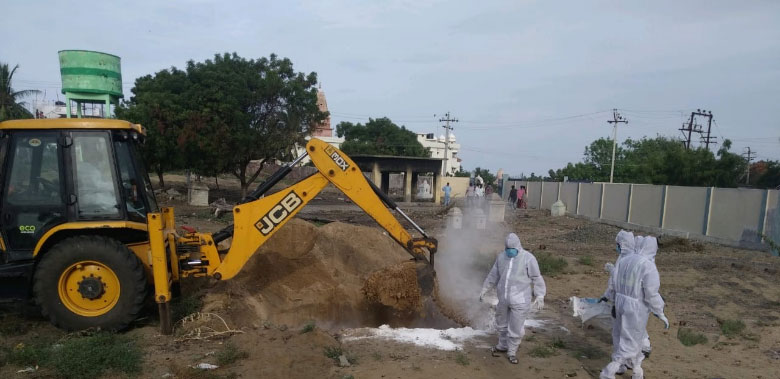 Stories Of Change
Our Green Friends stepped up without hesitation or second thoughts and assisted the local bodies for safe burial of the corpses of COVID positive patients with all safety protocols in line. The work of these selfless and brave souls is one for the book.
Read More Stories