On International Youth Day, we bring you some of the bright young stars who work with us in the Social Sector. They are our teachers, our communications team, and even a doctor.
We asked them what makes them want to work for a nonprofit? What or who inspires them? We hope they inspire more to work for the social sector, bringing change as they go.
Milkal
Teacher – Hand in Hand India Residential School
"A relative told me about Hand In Hand India, I was inspired by their mission and vision. So I did my teacher's course and joined as a teacher when I was 19 years old, I've been a teacher ever since. Most times I'm not just a teacher but also a parent, an elder sibling, or friend.
Someone who impacted me personally was Mrs. Vidhya, a fellow teacher. She gets everyone involved in any team work, and works well under pressure. All the students enjoy her class. And she always says that there's so much to learn from these students, especially those who have come from difficult backgrounds.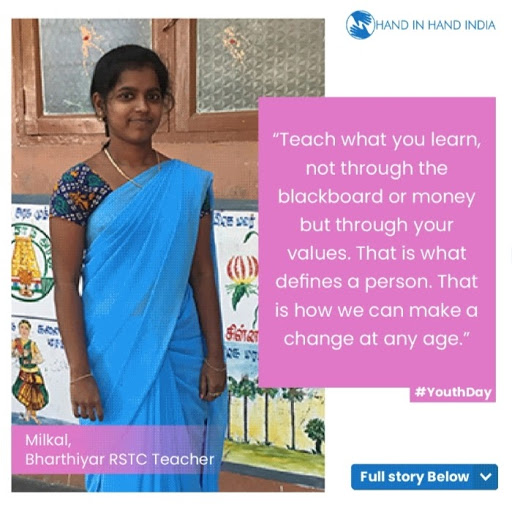 The greatest way for me to create impact is to care for my students and to teach them their worth. I'd advise everyone else to be confident. Teach what you learn, not through the blackboard or money but through your values. That is what defines a person. That is how we can make a change at any age."
Parvatha
Research Associate, Hand in Hand India Academy
"When I first joined Hand in Hand Academy, I was an intern involved in health projects and now I'm a research associate. I enjoyed research because details always get the ball rolling for new strategies.
Every person I worked with was very dedicated and purpose-driven. Mr.Ethirajan, in particular, is a strong presence. He's the head mobilizer from the health pillar. He always encouraged people to participate and interact more. As I was new to the villages he ensured I was safe. It's because of him that I now understand the bigger picture and am constantly motivated to do good for society.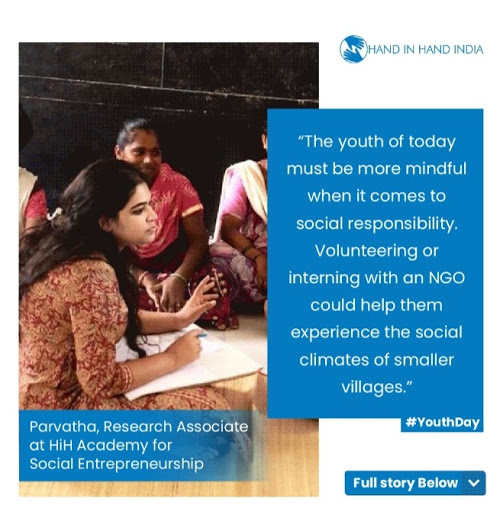 As a medical practitioner, my profession revolves around helping people directly. I was at crossroads in my career when I interned at Hand in Hand India and the work I did then guided me and resonated within me.
The youth of today must be more mindful when it comes to social responsibility. Volunteering or interning with an NGO could help them experience the social climates of smaller villages. The difficulties, faced by so many could make them more passionate and be the driving force behind them wanting to do their part too."
Aparna
Communications Manager, Hand in Hand India
"My work at SHG enterprises began when I started there as an intern and had to do research on women's financial independence. Now as a communications manager for Hand in Hand India, I have learnt many lessons and had the chance to travel and engage with many different people with such incredible stories. Alongside handling social media, I work on different campaigns, case study documentation, and blogs.
I have great respect for Ms. Babita, an SHG mobilizer, she was one of the first people I met when I was just an intern with broken Tamil. She was always ready to answer every question I had with such care and patience. Over time I began to realize how she and the other mobilizers are vital pieces to the entire organization.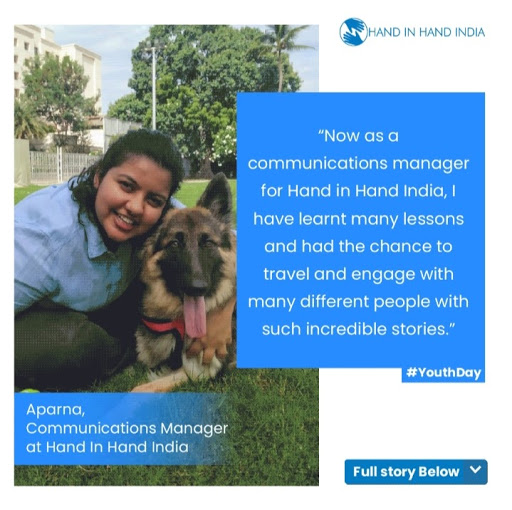 I worked hard to become a development practitioner and am extremely passionate about inclusive socio-economic development which is the sole reason why I wanted to work for Hand in Hand India."
Sounder
Teacher, Hand in Hand India Residential School
"My journey began in July 2015 when I started my work at Peenjamanthai RSTC at Jawadu hills. Once I had joined, I realized I had to play a bigger role in the children's lives as many of them had faced issues in the past and because they were all away from their family and friends. I was not only a teacher but a brother and friend to them.
Back when I started my Teacher Training course, my goal was simply to work with children. But when I joined the RSTC, I felt satisfied that I was making a difference in the young lives at the centre. I started to teach children games, yoga, and counseling them using creative methods.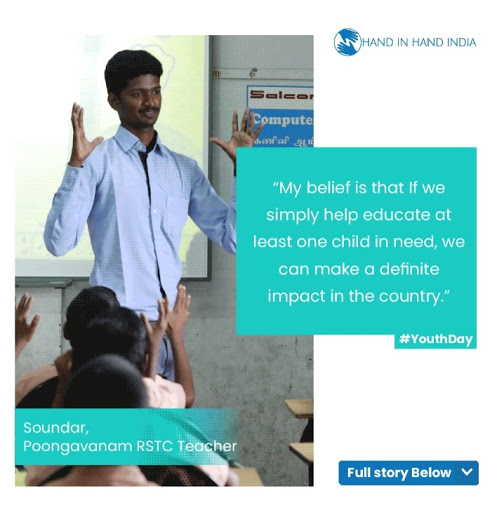 My colleague, Mr. Veeraraghavan is my role model. His patience and cheerful nature make him a favourite among students.
I chose this job because this is the place where children, who are rejected from other systems, are taken in. I take immense pride in helping the organization identify more of these children and guiding their education.
My belief is that If we simply help educate at least one child in need, we can make a definite impact in the country."