Can you imagine a life, day, or even a minute without water?
Oh God seems like an indescribable nightmare that we can't even imagine. So let's not. Let's imagine this, walking close to 1km to fetch water from a well multiple times a day? Sounds tedious, doesn't it? Well, why don't we add some rules to this game? Rule one; no access to well before the morning prayer at the temple nearby. Rule two; women to stay away during the menstrual cycle. So, can you see yourself doing this? We certainly do not believe anyone would last a week.
Here we bring to you the troubles faced by communities in Thiruvanaikaval, Tamil Nadu in finding water for their everyday needs. Our Natural Resource Management team brought together the community, harnessed solar power and brought the much-needed water to this region.
The long walk to bring home water
The Irula tribe of Thiruvanaikovil has been trapped under these rules for years. Women, being the homemakers, are expected to do this tedious work. Ms. Selvi, a resident of Thriruvanaikovil travels frequently on foot to fetch the well water for her family. She has two children and a husband to care for in addition to the physical work of carrying heavy pots of water, every day. All this work can be extremely strenuous to the body and mind.
Water collected from the well is solely used for domestic purposes. For drinking purposes, the villagers contribute Rs. 30 to Rs. 50 each to have a 250-liter plastic barrel filled up to the rim. To sum it up, residents have not only been facing a physical burden but also a financial burden for years.
Our Natural Resource Management team (NRM) works closely with NABARD and CSR partners towards the upliftment of rural and tribal communities via their various initiatives, such as watershed management, organic farming, and horticulture development by promoting farmer producer organizations and green livelihoods. With financial support from Grundfos India as a part of their CSR program, the NRM team implemented a drinking water project in Thiruvanaikovil hamlet to ease the residents' difficulties. Multiple surveys by the team led to the understanding of water deprivation in the hamlet.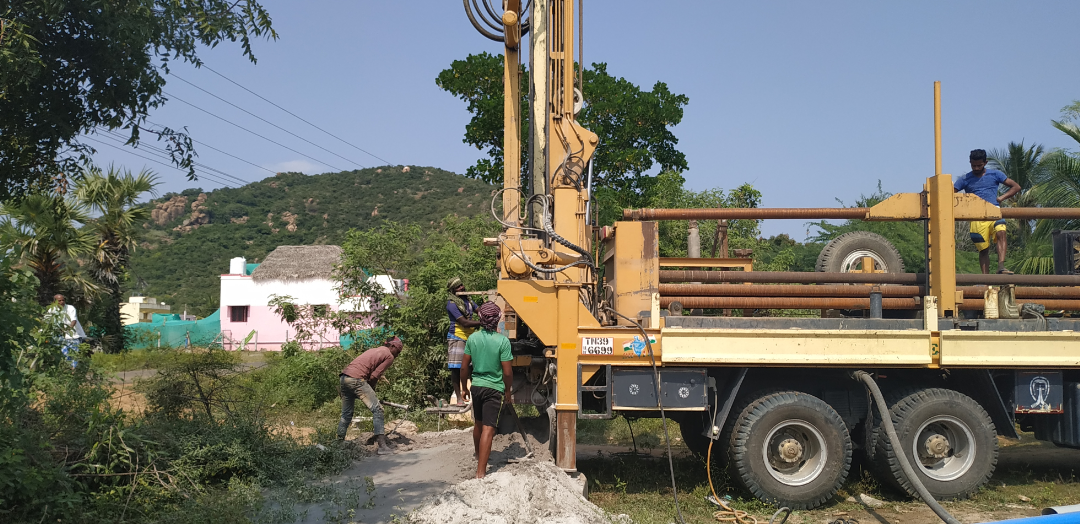 The team assessed all options available and arrived at a decision to set up a solar-powered borewell for everyone to access free of charge. The team conducted a scientific hydrogeological survey and the wisdom of Mr. Kannan, a senior citizen in the village was attainted, to locate the point of the water source. Due to the installation of solar panels no additional cost will be incurred for pump operation.
Post thorough assessment, work to provide basic rights of safe drinking water to the residents commenced. A bore well was dug to a depth of 400ft. A 3 core submersible pump was used to pump water. Solar panels of 2 Kilowatts were used as a power source and a storage tank with 2000 liters capacity was erected over a cement platform with four outlets for water supply. The villagers were ecstatic to have their own water supply after years of dreadfulness. Mr. Kannan noted that the visitors were all amazed by the results and they stated that the borewell water tastes better than well water.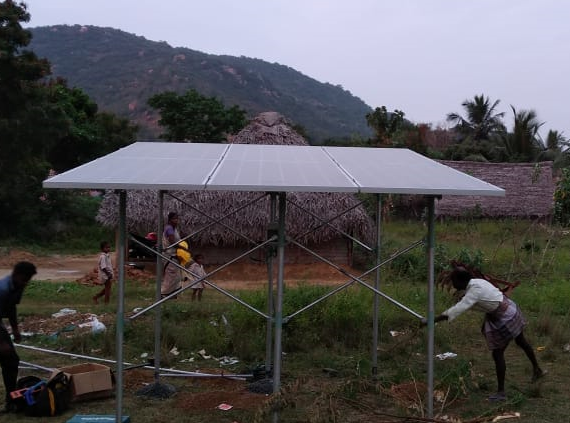 HIH India's team worked tirelessly to fulfill this basic need of 24hours access to water, free of charge. The old well also soon went dry and the neighboring villagers lost their only water source. But the new solar borewell was present to fulfill their needs as well. Saritha, a resident of the village stated that the water project has been quite a reliable source for everyone including migrants, students, and the workers who return from the 100 days employment guarantee program of the government. The project did not just tackle the problem of one village but helped many more indirectly.
Impressed with the results of the Thiruvanaikovil project, the Grundfos India team decided to fund another project at Kanniyamman Nagar, Meyyur. The story of this village is something out of the ordinary. The residents traveled to a government-built borewell about 2kms away and sometimes even fetched water from agricultural fields for domestic needs. During monsoon season there is a little more creativity needed. The villagers dig up pits in the nearby river basin, collect the rainwater, filter it out and then use it for domestic purposes. This was the routine work performed for nearly two decades. This indicates that an entire generation was accustomed to collecting water in this demeanor!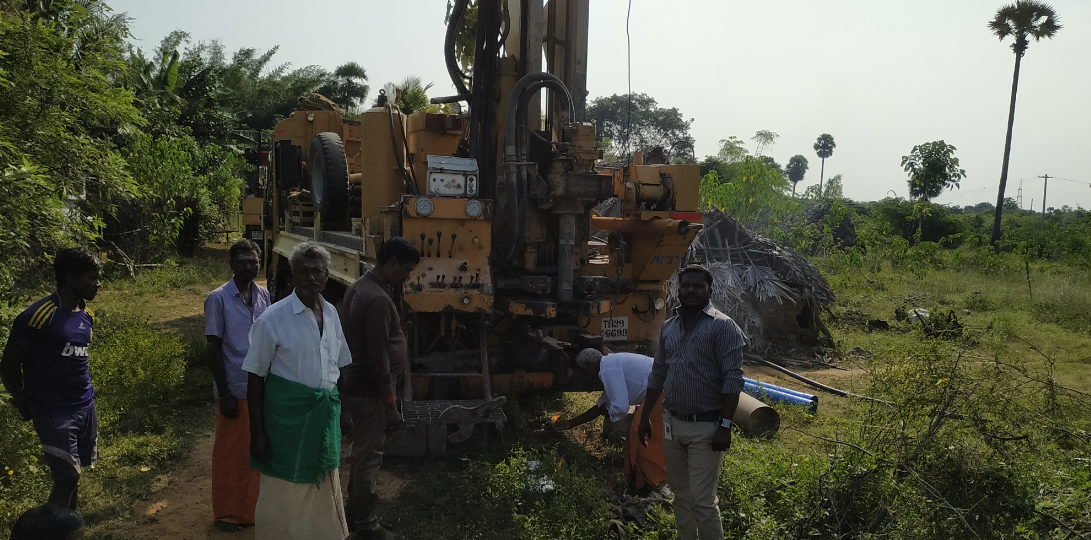 Sounds fictional and like something you only see in Indian movies doesn't it? Well, where do you think the movies get their ideas from? A National survey states that close to 82% of Indian households lack piped water in their homes. The NRM team understood the needs of the Kanniyamman Nagar residents. Post thorough research, the team set up a solar-powered borewell project about 850 meters away from the city. The distance was due to the fact that there were no water sources available closer to the village. The team also set up a kitchen garden around the water tank for the villagers to benefit from. Any water spill from the tank caterers to the vegetation planted around. Both the above-mentioned projects were completed prior to the Coronavirus pandemic.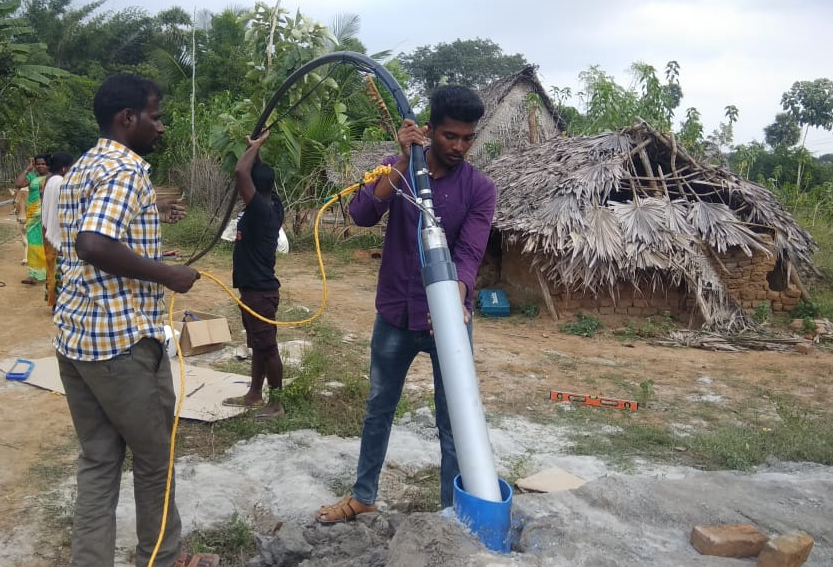 Sustainability Goal Fulfilled
It must come as a relief to know that the Government along with numerous private and non-governmental organizations has been working day and night to eradicate this situation of water shortage. HIH India is one such organization whose aim to provide safe water and sanitation for all will continue till the end. With the aforementioned two water projects we have met the Sustainable Development Goal 6 to provide safe water and sanitation for all. The fundamental right to access safe drinking water was fulfilled by the NRM team at HIH India in partnership with the Grundfos India CSR team.
The NRM team has cumulatively created 266,622 cubic meters of water storage facilities through its partnership with numerous CSR programs. The team has also implemented 8118 hectares of lifesaving irrigation for farming. NRM's community drinking water program promotes rainwater harvesting and increases drinking water sources in villages.