Self Help Groups are now the oldest form of creating stronger rural communities, mostly through women. Here is a peek into the lives of rural women who come together as a powerful Self Help Group. This is an account of what happens during a Self Help Group meeting, through the eyes and ears of Aparna Krishnan, an intern at Hand in Hand India.
"You can only call them, you can't drag them by the hand," snapped Geetha Akka, the 'animator' of Sriponiamman SHG (Self Help Group) on being asked about the whereabouts of the rest of her group members. I was in Uthukadu village near Kancheepuram as a part of an assignment and ended up becoming a bystander in a SHG meeting. Held around 12.30 pm, the sun right above was bringing out the cranky in everyone. Probably it was the worst time to conduct an SHG meeting but then it had to be done. A total of 16 members were bound to have a few latecomers and absentees. Twelve bickering women finally arrived; some from work, some with children attached to their hips and some of them had even left their lunch cooking on the gas, waiting to dash back once the meeting was over.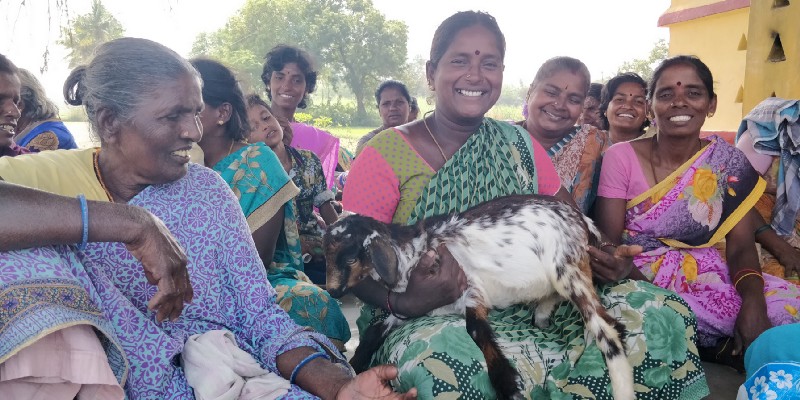 These cheery smiles hide the tough women from a Self Help Group
What did all these women have in common? Well, apart from their frowns, they all lived close by and were part of similar socio-economic strata. This is a fairly new SHG and the 'animator' as she is referred to, is the glue that holds these women together. The meeting was called to sort out a few issues like low attendance, inconsistent savings and lack of regular meet-ups.
To me, a relatively uninformed city-bred girl, these issues are quite grave and could lead to bigger problems affecting the group and the women personally. I found the SHG format very innovative and interesting.
SHGs are all about creating a safe space for these women, helping them socially and financially first by helping each other. The first and foremost necessity of forming an SHG is understanding that your peers act as your collateral and putting in trust, forming a bond before anything else.
Any enterprise requires money and since most banks do not give out loans without any collateral, the risk of taking loans are much higher. That is where the SHG structure come into play by providing small loans or others forms of credit or savings to those who are unable to support themselves on their own or cannot go to private banks due to extremely high rates of interests. The significance of the group goes far beyond this, which is, to empower everyone by providing security to each other, at home and at work. Being financially literate together and giving them an opportunity to be economically empowered. SHG's we found have created the strong base for women entrepreneurship.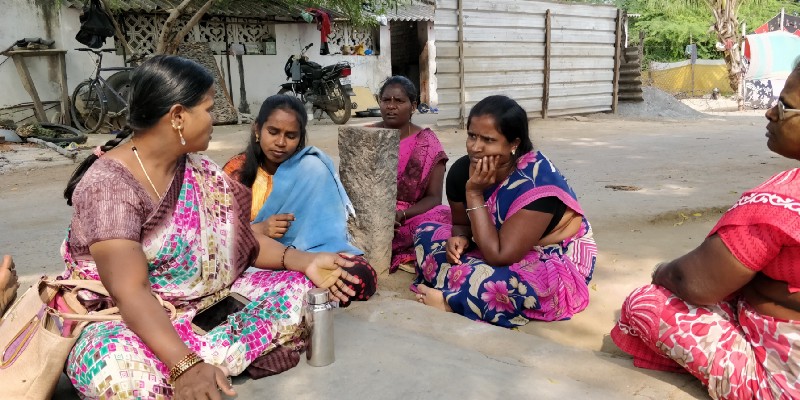 All ears as the leader of the Self Help Group speaks.
In the meeting I attended, there was also a female mobiliser present. She is the representative of the Non-profit that drives these SHGs, i.e, Hand in Hand India. The purpose of the mobiliser was to act as a mediator between the members. In case the savings isn't done properly, the lending won't take place which defeats the entire purpose of forming an SHG.
The meeting started with heated arguments; who came last time and which lady was travelling and about those members who never bothered showing up at all. You would think, why not just hand in a leave application, but it doesn't work that way here! Being fairly new to forming an SHG, it is taking some time for this group to break ground.
The situation was a little unruly, but the social mobiliser listened to them patiently and offered solutions at the SHG meeting. She underlined the importance of regular meetings and mutual support. Finally, everyone came to a mutual understanding and meeting dates were fixed. Five minutes later, a woman from the far left who I'm guessing still had lunch cooking on the stove dashed out as she saw her children returning from school. Then I realised the meeting had dissolved and the women trickled back into their lives.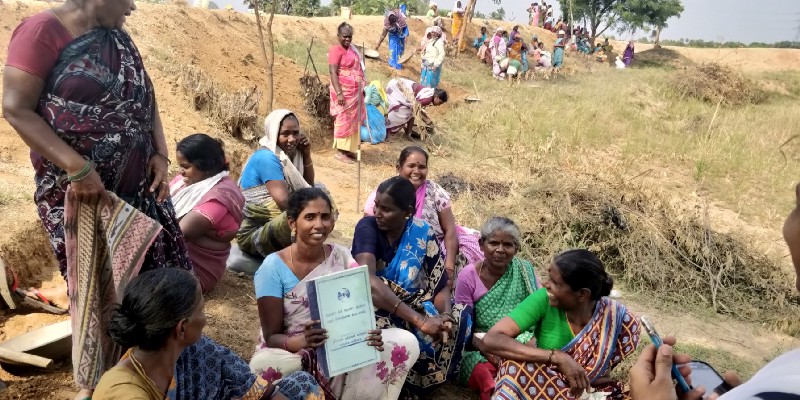 All set to start balancing books, as they also balance their lives.
From managing lives to managing ledger books, these women of rural Self Help Groups have come a long way!
This peek into the lives of these rural women was an eye-opener for me. Most women schedule their lives around the needs of their family, so much that they do not realise there is a world outside that too. Sometimes, a little push, a boost of confidence is what is required to show what more could be possible.
Hand in Hand India's Self Help Group (SHG) model is based on women empowerment and job creation. We mobilise women into groups, draw on the collective social capital, facilitate access to economic capital, provide skills training, hone their entrepreneurial ability and act as a catalyst for a gender-equal and empowered society. Read more about our work here.